Air Travel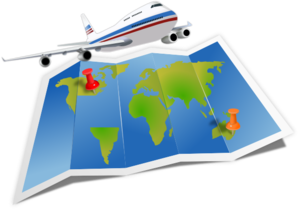 Most of us travel by airplane frequently and are used to the procedures and expectations of the airport. First time fliers, however, may become quite nervous because they are unaware of what to expect when they arrive at the airport. If you are a first time flier and are wondering what to expect when you arrive at the airport, this article can help. Throughout this article we will discuss everything you need to know about taking your first flight!
Before even arriving at the airport, you will want to dress appropriately. Depending on your destination, it is often suggested that you dress in layers. When you are flying, temperatures can change quickly based on elevation and location. You will want to bring something warm to wear, as well as something cool, for any unexpected changes in temperature. You will also want to wear comfortable shoes. High heels don't cut it in an airport. Airports can often be very large in size, sometimes taking 20 minutes to walk from one end to the other. Thus, you will want to make sure that your feet are comfortable for any amount of walking that you may have to endure. Also, when it comes to flying, avoid wearing metal or jewelery. The more metal or jewelery that you wear, the more things you will have to remove during security check, making your check in a much longer process than it has to be.
So now you know what to wear, but what all do you need to bring to the airport with you? When traveling via airplane you will need to bring your airline ticket, your passport, and of course, your luggage. It is important that when packing your luggage you follow the airline's luggage requirements. Most airlines allow you to bring along two check in bags and one carry on bag. With most airlines, you will be charged a fee of $20-$30 for each checked bag under 40 pounds. If the bag is over 40 pounds, you will be charged an additional fee. Carry on luggage is usually free, but is very limited in size. All carry on luggage must be small enough to fit in the overhead compartments on the airplane. Carry on luggage is also subject to other restrictions regarding weapons, gels, and liquids. For more information about luggage restrictions, refer to your airlines website.
What should you expect when you arrive at the airport? Firstly, you will want to arrive at the airport at least 2 hours in advance. This will give you ample time to check your bags, get through security, and grab a bite to eat before takeoff. If you cannot make it 2 hours in advance, make sure to arrive at least one hour before takeoff. If you are not checked in thirty minutes before your flight is scheduled to leave, your seat may be given to someone else.
Since the terrorist attacks on 9/11, airport security has become increasingly tight. First, your bags will be passed through an x-ray machine to check for any breaches of security and then you, yourself, will be instructed to walk through a metal detector. To pass through security quickly, ensure that you have followed all carry on guidelines and that you have your boarding pass and passport ready.
Also, when traveling, make sure to bring a good amount of money aboard the plane with you. If you get hungry while waiting for, or during, your flight, food can be quite expensive. Always have extra money available to you in case you become hungry.
Aboard the plane, expect small, tight spaces. Airplane seats are very small and crowded, so be prepared! Always make sure to bring something that you can entertain yourself with in case you are unable to sleep in such a confined space.
For first time fliers, airport procedures can be quite confusing. To survive your first airport experience, follow the tips above and be sure to ask airport staff if you have any additional questions.